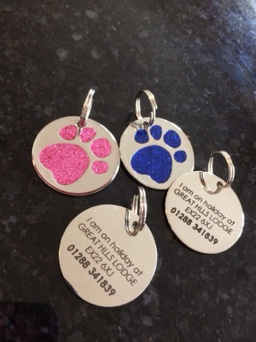 Four legged Friends
Well behaved dogs over the age of 12 months at the time of your visit to us are welcome at Great Hills Lodge and we accept up to two dogs at no extra charge.  If you have three dogs or your breed of dog is considered a large breed please contact us before hand so we can be sure that Great Hills Lodge can accommodate them comfortably.  A third dog, if accepted, will incur an additional charge of £20.
We have an outside tap with a hosepipe to enable you to wash off muddy or sandy paws and dogs have their own welcome pack which includes a towel to dry those paws!
The property is situated down a private lane which has direct access into woodland and a circular footpath around the village. 
Dog friendly beaches are within 10 minutes drive.  Some allow dogs off lead all year round, others have seasonal restrictions.  Please see the link below for more details.
We have free ranging hens and two cats of our own who may be seen through the courtyard gate at times.  Also at certain times of the year there are sheep in the field directly to the rear of the property.
In order to ensure that all our guests are clear on the expectations at Great Hills Lodge we have set out some simple house rules below.  If these would be a challenge for you and your dog/s to accept please consider carefully if GHL is the place for you
House rules for dogs: 
-   Your dog must not be left in the cottage unattended at any time and kept within your sight when in the fenced courtyard garden.     

-   Dogs are not to be allowed in the bedrooms,  (we have stair gates fitted to assist) 

-   We  would prefer that pets are not allowed on furniture  however  if your pet is not used to this at home please bring additional throws and use the throws we also provide.
-    Owners are required to clean up after their pets and take the waste to the dog waste bins on the village green at the top of the lane
Bude is a very dog friendly holiday destination.   The following link will take you to the Tourist Information page which provides lots of useful information about where your dog can accompany you, including local restaurants and what beaches are dog friendly at different times of the year.